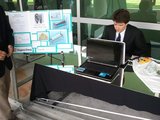 What do a plasma-guided rocket, aerodynamic bicycle farings, a life-size remote control and motion base, and an SUV car wash have in common? No, not that, get your head out of the gutter!
I got to see them all at the SDS and talk to the students who created them!
Today I'm returning to my environmental roots with an auto-adjusting solar collector and an autonomous oil skimmer.