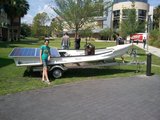 On a BOAT! ... Well, NEAR a boat.
(full)
Wait, part 6? I never thought I'd get that many. On the other hand, breaking the SDS into small parts was inevitable: all that awesome can't be contained in one post.
How much awesome? Well, so far we've seen a plasma-guided rocket, aerodynamic bicycle farings, a life-size remote control and motion base, an SUV car wash, and an autonomous oil-spill cleaning robot. Is that enough awesome for you?
Well, maybe for you. BUT NOT FOR ME! Today I'll be showing you the EVs I saw at the SDS.