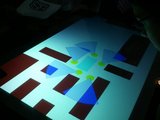 It's been so long since I've updated, I figure I'd better jam everything else in here and move on. Part 7 of my series covering my trip to the SDS will wrap up a parade of awesome that has included a plasma-guided rocket, aerodynamic bicycle farings, a life-size remote control and motion base, an SUV car wash, an autonomous oil-spill cleaning robot, and a couple of unusual EVs.
This time: multi-touch computer table! Wi-fi blood pressure monitor! Mine clearing robot car!! Frikken' BEER PONG TABLE... with frikken' LASERS!!! And EXCLAMATION POINTS!!!!
Sorry, I got carried away. Not so many exclamation points. But all that other stuff? Totes.
Continue reading "UCF Senior Design Symposium 2012, Part 7" »