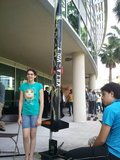 Melissa by the 10-foot tall rocket
(full)
A week or so ago, I went to the UCF College of Engineering and Computer Science Annual Senior Design Symposium on Renewable and Sustainable Energy (say that ten times fast!). As it was held just before my daughter's birthday, I offered to take her with me. She was excited to go, and so we both played hooky for the day.
This wasn't the first time for either of us: I've attended all four years, and she went with me last year. We both enjoy talking with the engineers and looking at the projects, so we skipped the lectures this year and just checked out the presentations.
And took pictures!
There are too many pictures for a single post, so I'll split them up a little. (This has nothing whatsoever to do with me trying to provide more content for my webpage, no, not at all. What a crass suggestion.)
First up: a ten-foot tall plasma-guided rocket!